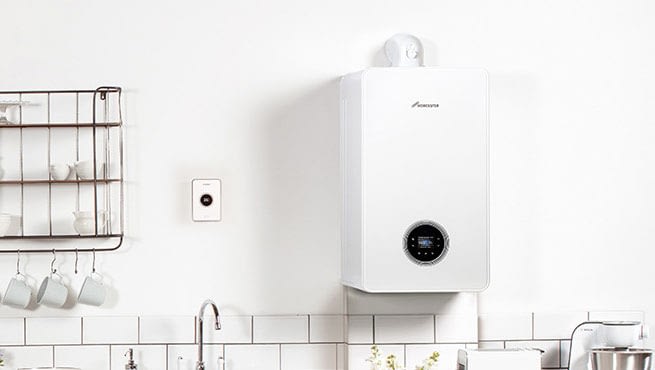 System boiler installation in Dorset
A system boiler is more commonly found in larger homes with greater demands for heating and hot water. They feature a separate cylinder for storing water which enables them to provide a constant supply of hot water throughout the home – unlike combi boilers which can only heat water on demand.
So, if you're looking for a new system boiler installation and you're based in Dorset, you're in the right place!
Obtaining your system boiler installation quote from us is a simple process, just get in touch using the form at the bottom of this page and we'll get back to you as soon as possible with more information.
In the meantime, here's an overview of the Worcester Greenstar 4000 system boiler – one of the system boilers we install the most.
Greenstar 4000 System Boiler Overview
The Greenstar 4000 System Boiler is a fantastic new boiler for larger homes and can be fitted in a variety of kilowatt power ranges depending on the size and specifics of your home.
This system boiler range benefits from modern looks as well as having a full colour, easy to operate digital display and it operates with extreme efficiency too.
Greenstar 4000 System Boiler Features and Benefits
100% planet friendly packaging
Intuitive full-colour long-text display
Modulates down to 1.9kW central heating output
500ml condensate siphon
Longer flue lengths up to 12m (60/100)
Quiet operation from 42dB(A)

Boiler finance available
It's worth noting that as well as paying for your new system boiler in one go, we also offer the ability for you to pay for your boiler installation by finance, helping you spread the cost without any upfront deposit. If you'd like to find out more then visit our boiler finance page or mention it when you give us a call and we'll explain what options we have available.

We're Worchester Bosch Accredited Installers (WAI)
When you get a quote for your new boiler installation it's important it's from a boiler installation company you can trust.
As Worcester Accredited Installers, we're officially recognised by Worcester Bosch as being heating engineers with high-quality workmanship and a solid reputation offering fair pricing to ensure effective and reliable service.
As accredited Worcester installers we can also offer you:
Extended guarantees on all installed products up to 12 years
Expert knowledge on a large range of products
Expert advice regarding heating options and products
A fully qualified, registered and insured engineer (Gas Safe and OFTEC registered)
0% Finance options
No obligation boiler installation estimates
Safe installations carried out by qualified engineers
An excellent boiler installation job
"Max Shutler has carried out various works for us over the past four years. He was first introduced to us by our builder as the plumber for installing a new boiler and radiators in an extension we had built. He did an excellent job and has been annually servicing the Worcester Bosch boiler ever since as an accredited install for Worcester Bosch. Max has carried out numerous small items of work on our heating system and we have always found him reliable, courteous and competent."
Mr and Mrs E, Fordingbridge – 10/10
Excellent communication
"I was very impressed with Max's work. We knew from the beginning how much the job would cost and how long it would take. Apart from excellent workmanship , reliability, courtesy and tidiness, Max is also a very good communicator. He told us exactly what he was doing at every stage, and what time he would be back the next day He was always true to his word. He puts his customer first."
Mr D, Fordingbridge – 10/10
Get your no-obligation system boiler installation quote today
Ready to get your system boiler installation quote?
Just complete our boiler quote form below and we'll get back to you to discuss in more detail.