We loved fitting this walk in shower for a disabled customer in Bournemouth.
Walk in showers have become a very popular option for those renovating the bathroom, which doesn't really come as a big surprise as most people prefer to shower rather than bathe. We lead busier lifestyles than ever before, and a walk in shower or wet room provides a stylish and practical showering solution for all age groups, ranging from young professionals to the elderly, as well as for those with restricted mobility.
So, if you're planning a new bathroom and wondering whether to install a walk in shower enclosure or a wet room, take note of the following guide as we uncover all you need to know – from how much you can expect to spend, to the different types of walk in showers and much more, which will hopefully help you make the right decision.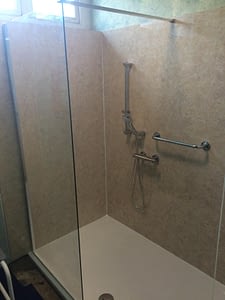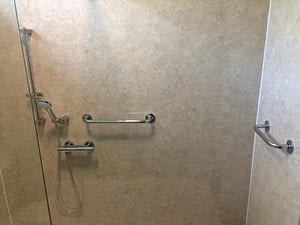 HOW TO CHOOSE A WALK IN SHOWER OR WET ROOM
There's a wide range of walk in showers and wet rooms to suit any shape or size of bathroom.
First decide if you would like a walk in shower or a wet room. Walk-in showers include a tray, while the wet rooms are supplied with a drain.
Once you've made a decision, you will then need to think about the shape and position.
There are three main types to choose from including recessed, corner and floating. 
WALK IN SHOWER TRAYS
As well as sizes and styles, there's a variety of shower trays and shower drain designs available including standard white, walk-in and anthracite. They all come in a wide range of sizes. The walk in shower tray is divided into two sections – one end for showering, and the other is used as a space for drying off. All types have a robust and durable construction to withstand the rigours of everyday use.
WALK IN SHOWERS – THINGS WORTH KNOWING
When choosing a walk in shower there are a few things worth knowing…
All glass screens must be toughened and meet British Standard EN12150-1. The thicker the glass the better, between 6-8mm is standard.
Large expanses of glass in the bathroom could mean lots of cleaning, but glass panels with an easy-clean coating help to prevent soap scum from building up and sticking to the glass, so cleaning will be less of a chore.
Glass panels that are framed and edged with chrome, are ideal for families with young children, as the edge is slightly blunter. For a really seamless look opt for a frameless screen – this will have a bevelled safety edge.
Don't forget to check the guarantee period too, these can range from one year to a lifetime guarantee and cover faulty manufacture or materials, but not breakage.
 WHAT IS A WET ROOM?
A wet room is where the shower is completely open and the shower floor is flush with the rest of the bathroom floor. The shower area of the floor has a slight gradient to allow the water to flow in the direction of the drain. A wet room needs to be completely sealed with waterproof boarding to prevent the water from leaking, so for this reason it's best to hire a professional to carry out the installation work. A glass shower screen can be fitted to protect items such as loo roll and towels from getting splashed with water, which is ideal for small wet rooms.
ADVANTAGES OF WET ROOMS
Wet rooms have many advantages, and they are a great option for adding sleek, designer style to any bathroom. Here's some benefits to a wet room.
Adds value to your home
A wet room will give your home wow factor and create a selling point if you ever want to sell in the future. As long as the wet room is installed properly, it will add value, but this is only the case if the wet room is added as an en-suite or second bathroom.
Easy access
As well as being stylish, wet rooms are ideal for those who are disabled and for the elderly too. As there's no shower tray, access to the shower is a lot easier.
Creates a designer look
Wet rooms are a super stylish option, and perfect for adding designer style and a focal point to your home.
Ideal for small bathrooms
Creating a wet room enhances a sense of space in a small bathroom, and removing the bath means you'll end up with loads more room. Even if you fit a wet room screen, the space will still look bright and airy. Wet room screens come in a wide range of sizes to suit any space.
Easy to clean
A big advantage of a wet room is that it's easy to clean and maintain. There's no shower tray to worry about, and if you fit a wall mounted basin and toilet, then it's easier still.
For more information on walk in showers and wet rooms or to request an installation quote, give us a call on 07545 198220.
Request Quote