Are combi-boilers any good?
Combination boilers (or "combi boilers") have become more popular in the UK over the past few years, with over 70% of homes choosing a combi boiler over regular hot water or system boilers. We recently completed a boiler replacement in Alderholt, switching the customer from a low pressure boiler to a newer combination boiler.
That's why we thought we would look into some of the pros and cons of combi boilers.
Pros of combi-boilers
More Efficient
Combination boilers are much more energy efficient than traditional boilers. In fact, replacing your boiler with a combi boiler could save you up to 40% on your heating bills.  
Cheaper
Due to their compact nature, combi boilers are relatively simple to install. This means lower installation costs and lower repair costs in case of damage.
Faster
One of the biggest draws of combi boilers is that with no water tank to heat up, combi boilers can provide an unlimited supply of hot water on demand. No waiting around!
More Compact
As combi boilers don't require a separate water tank, they are much more compact. This makes them ideal for smaller homes and flats where there isn't a lot of room for pipes.
Safer
The cold water from a combi boiler is always safe to drink as it comes directly from the mains. This isn't always the case with traditional systems, as these may store cold water in a tank before piping it through the house.
Easier to Sell
As combi boilers tend to be more efficient than other boiler types, they can be more appealing to buyers if you are looking to put your property on the market. It will also show on the Energy Performance Certificate (EPC).
Cons of combi-boilers
Dependence on Mains Pressure
Combination boilers are heavily reliant on a good mains pressure. If you are having a new boiler fitted, you should check what the mains pressure in your area is before you settle on a combi boiler.
Limited Use
Has anyone ever run the tap whilst you were in the shower and given you an icy fright? With combination boilers, you cannot run more than one hot water source at a time. This makes it inconvenient for large families and houses with numerous bathrooms.
No Power Showers
Sadly, you can't have a power shower with a combination boiler. This is because the water pressure is set by the pressure level at the mains. 
No Immersion Heaters
As there is no water tank, if your combi boiler breaks down then you will have no backup supply of hot water or central heating. This can cause a problem if you're unable to find someone available to come out and fix it.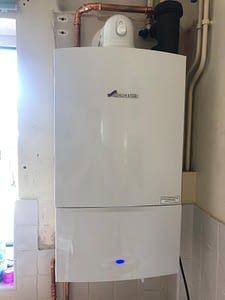 Request Quote